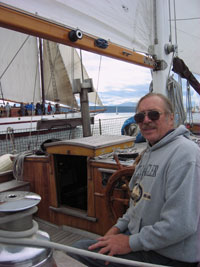 Captain Jim Peacock grew up in the Seattle area on Mercer Island and summered on family land on Orcas Island.
As a young adult out of the Coast Guard, Jim embarked on a career as a salmon-troller, first on the M/V Candy Lynn and then on the gaff-rigged ketch the S/V Eileen O'Farrell fishing Oregon, Washington and Alaskan waters.
He was co-owner of the first wooden boat repair yard, Port Townsend Boat Works started in 1974.  Later other shipyards formed from their employees, and Jim started Peacock Marine at Point Hudson for a number of years. One memorable yacht delivery was across the Atlantic Ocean, from England to the Virgin Islands.
He cruised to Mexico and docked in Sausalito for several years. Returning to Port Townsend, he served several seasons as the chief engineer on the South-east Alaskan coastal tour yachts the M/V Catalyst and M/V Westward which plied the Inside Passage.
He has operated large Alaska commercial salmon tenders (140ft.) all over Alaskan waters including up 90 miles of the Kuskokwim River to Bethel, Alaska in the Bering sea. The S/V Eileen O'Farrell was chartered by the USGS for fisheries research on the Kuskokwim river in the year 2003.
Captain Jim has also made many delivery trips with small ships (140 ft.) and motor yachts and sailboats, all along the west coast from Mexico to the Bering sea.
His 40 plus years interest in shipwright work and construction and repair of fishing and sailing vessels also extend into youth oriented community boat building projects.