Captain Jim Peacock is taking reservations now for this 2016 season.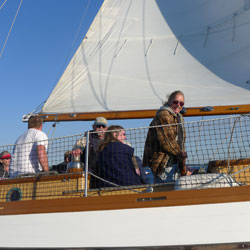 If you would like to book a charter, the first step is to contact us using the form on the 'Contact Us' page, we will reply to you as quickly as possible. Or, if you prefer, you may feel free to call us directly (360) 821-9366.  Alternate phone to leave messages is (360) 732-4232.
After we have answered any questions you may have, and agreed upon a date, you will be required to make a 50% deposit to RESERVE your date.
When we receive your deposit, we will send information about what to expect, what to bring/not bring on your cruise and driving directions to Seawulff's home berth. We will also include a statement detailing the Cruise that you have selected, the deposit which we have received, and the balance which will be due upon boarding.
—-Charter Rates—-     Fair Winds
USCG certified Passenger vessel
Crew of 2, and up to 10 passengers on day sails.
Half Day Charter of 4 Hours
$300 minimum, up to 4 persons- plus $50 per person over 4 up to 10 people.
Full Day Charter 6 Hours
$400 minimum, up to 4 persons- plus $50 per person over 4 up to 10 people.
 2 Hour Charters   
$200 minimum for up to 2 persons- plus $50 per person over 2 up to 10 people.
Multi-Day Overnight Charters
$400 minimum for up to 2 persons-$100 per person for a maximum of 4 persons – $600 per day.
Booking and Cancellation Policy
We require a 50% deposit to hold your reservation. Any cancellation shall be submitted in writing and a 10% administrative fee will be deducted from your refund. If you cancel within two weeks of departure or do not show up for your trip you will forfeit the full deposit for your charter unless we are able to re-sell your trip. Any money lost due to a cancellation, aside from the 10% administrative fee, can be used toward the purchase of another charter aboard  Seawulff Charter vessel within two years of cancellation. Should Seawulff Sailing Charters be required to cancel a trip for any unforeseen reason, we will refund in full any money paid to us.